by Kristin Shaw
November 2nd, 2016
Stay Safe And Sane On The Road This Holiday Driving Season
Here's the deal: your luxury car is an asset you want to protect. You invested time to research just the right fit for you, and you spent a fair amount of money for your gorgeous vehicle. To keep your holidays merry and bright for both you and your performance machine, keep these safety tips in mind.
1. Park smart
Why put your vehicle at risk by squeezing it into a space closer to the door, next to a driver who may or may not care what it might cost to have a door ding repaired? Take the extra few steps and park it near the back of the lot.
When parking, remember this mnemonic acronym as a guide: BLIP. Back in - Light pole – Island - Pull through.
First: Back in when parking. You're sharper after you have been driving already and can reverse more safely; when getting in your vehicle to leave, more can go wrong. You may be distracted (see #3 on this list), stressed, or tired, and if your car is already backed into a space, you'll be able to pull out with a fuller field of vision than if you had pulled in nose first. Second: Park near a light pole. The pole will protect your car from a driver who might pull too far forward and bash its front end, and the light will give you added security at night. Third: Islands provide protection for at least one side of your vehicle. If you can find a spot at the end of a row abutting an island, that is ideal.
Fourth: When you see an opportunity to pull through so you're facing nose out, you'll reap the same benefits as if you had backed in, but without that extra step.
Anywhere that is busier during the holiday season will be a place you must be more alert: the mall, of course, but also grocery stores, restaurants, and post office parking lots will have a high potential for accidents.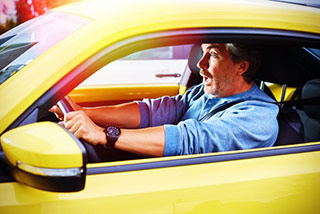 2. Avoid road rage
Interestingly, the holiday season, which is a time of love and giving, often brings out the worst in drivers. Traffic backs up by the malls, and people feel pressed for time to accomplish a lot of tasks and get to extra events during this time. Find your inner Zen and practice deep breathing while stuck on the roads or dealing with inconsistent and/or impolite drivers.
3. Have a plan before imbibing
Most holiday gatherings for adults include alcohol of some kind; knowing how you're going to handle your transportation plan is critical to ensuring your own safety as well as the safety of others. And not only that, but even if you're not drinking, the number of drivers on the highway under the influence of alcohol or drugs increases during the holidays. Be hyper alert and stay away from drivers who seem to be weaving, driving too slowly or too fast, or cutting across lanes. Your life and the life of your family depends on being more cautious than usual. Some call New Year's Eve "amateur night" because so many revelers who don't typically consume that volume of alcohol on a regular basis may be severely impaired and getting behind the wheel. Get a cab, use a driving service, or plan to stay the night.
4. Stay focused and alert
Driving when you're tired, impaired, or distracted is always dangerous. However, during the holiday season, with added stress, the potential for icy or wet roads, and more distractions, this time of year can be especially harrowing for drivers. The stressors of the season may cause some to drive too fast for conditions, aggressively change lanes, and generally disregard basic traffic etiquette and safety.
Curb your own distractions by using your speaker phone to take calls, if you need to speak with someone. Consider keeping your phone in the glove box or in the back seat so you're not tempted to look at it. Use your in-car navigation system to map your routes, and for the love of all things, don't text and drive. It can wait.
According to a study by the AAA Foundation for Traffic Safety, those who slept 6-7 hours a night were twice as likely to be involved in a crash as those sleeping 8 hours or more, while people sleeping less than 5 hours increased their risk four to five times. Many people sleep less during the holiday season, so watch out for sleepy drivers as you safeguard yourself against fatigued driving, too. Most sleep crashes occur during the early morning hours. However, due to our natural Circadian rhythms, there is also a peak in sleep-related crashes in the mid-afternoon, between 2 and 6 PM.
Stay safe, and that will be your greatest gift to yourself.