by Kristin Shaw
September 7th, 2016
summer traffic has given way to more crowded thoroughfares
The kids are back in school, and the lull of summer traffic has given way to more crowded thoroughfares. Parents are juggling work, school, and after-school activities, and newly-minted drivers are driving themselves to school for the first time. Add music, a myriad of buttons and whizz-bang features on newer cars, and unpredictable weather – not to mention the growing distractions of technology – and you have a recipe for more collisions on more roads.
According to a report by the National Highway Traffic and Safety Administration (NHSTA), autumn is the most dangerous time of year for pedestrians, with 29 percent of pedestrian-related fatalities. It goes without saying that every driver must watch for kids on the streets: kids are on foot or on bikes, scooters, and skateboards on their way to school, and they're thinking about the day ahead. Parents are trying to get to school and the office on time, and it's easy to make a mistake. How can you protect both the community AND your vehicle?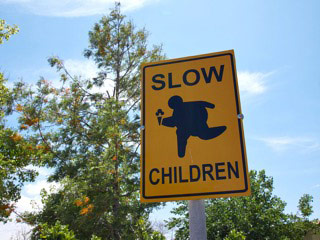 1) Watch the speed limits. School zone speed limits range between 15 and 25 mph, typically. Stay at or under the speed limit and watch out for bikes and pedestrians. Speed limits aren't just for school hours either, if you consider plenty of after-school activities are going on throughout the school year, like band practice, football games, theater rehearsals, and other school-related events. Stay alert and keep your foot on the brake.
2) Be alert and eliminate distractions. Watch out for kids darting into the street or crossing without paying attention. On streets without crossing guards, pay special attention to children trying to cross the street. Be especially careful on streets without sidewalks or streets with on-street parking as it may be hard to notice a child emerging from behind a car. Don't talk on your phone or send text messages while you're driving (which, in most states, is illegal while in a school zone).
3) Pause before you reverse. Check 360 degrees around the vehicles for children on the sidewalk, driveway, and around your vehicle before slowly backing up. Teach your children to never play in, under, or around vehicles – even those that are parked. And watch out for bicycles; children on bikes are often inexperienced and unpredictable.
4) Be "bus aware". It is illegal in all 50 states to pass a school bus that is stopped to load or unload children. If you're behind a bus, allow a longer stopping distance than if you were behind an SUV or car; that will give you more time to stop when the stop sign pops out from the side of the bus. According to research by the National Safety Council, most of the children who are killed in bus-related incidents are 4-to-7-year-old pedestrians who are hit by the bus, or by a motorist passing a stopped bus illegally.
5) Look out for new and inexperienced drivers (especially near high schools), and keep in mind that while learning to drive, teens may be overly tentative or make unexpected turns, lane switches, or drift. Practice defensive driving; most accidents can be avoided if even just one party is paying close attention. As they learn, teenage drivers may be more impulsive or distracted, so be extra aware for both parties.
6) Protect the interior of your car. Kids can get muddy and dirty, especially if it's raining outside. Have towels at the ready, and invest in durable mats that can be hosed off easily. Stash wet wipes and a few extra plastic bags in your seat pocket for quick cleanup.
7) Door dings happen. But you can prevent an excess number of them with these tips: park away from the crowd, open your door slowly, and teach your kids to be careful exiting and entering the vehicle. The door dings you may prevent may also be in others' cars.
With a little caution, back-to-school driving won't mean a trip to your favorite collision shop any time soon.